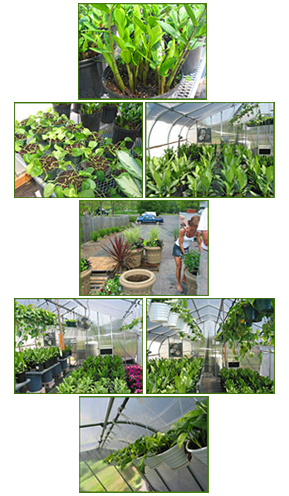 In 2001 Plant Designs, Inc. moved to our current location at 739 Linden Avenue. We now operate out of a 12,000 square foot facility that houses our main office, silk production department, live plant warehouse, extensive storage areas, dual loading docks and greenhouse.
Our warehouse allows us to operate efficiently while maintaining large amounts of inventory and storage for our rental programs. We receive plants about every two weeks from Florida. Once in our warehouse each plant is treated for a number of pests and watered thoroughly after their trip up in the back of a climate controlled semi-trailer. We acclimate our plants to our Upstate New York climate in our warehouse before they are delivered to your location. This ensures plants are at their optimum in our climatic conditions to provide you with the best looking and healthiest plants possible.
Our greenhouse was added to the facility and started service in the spring of 2006. We installed a stand-alone 18'x24' poly house, with heat and electricity behind our facility on the south side of our building. In it we grow some of our commonly used plants, like pothos, philodendron and differing aglaonemas. Some are started from cuttings, others are 'stepped up' from small grow pots to larger ones and grown on from there. Through our short growing season here in Upstate New York we grow these plants to a useable size, saving freight costs from Florida. Most of the plants go toward replacements of plants that have not performed well in our office environments, allowing us to keep our internal costs down to give you the very best service at great prices.
We deliver all our plants in heated vans even in some of the harshest New York winter weather. Over the years we have adapted our procedures in winter to minimize cold damage issues. We can confidently install any size project throughout the entire year.