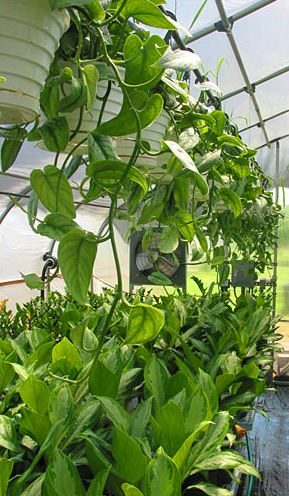 Our company was originally founded in 1975 by John Hudak as an exterior landscaping firm named PLAN (Penfield Landscape and Nursery). During the 1980's PLAN did both exterior and interior projects of all sizes, but slowly began to focus on indoor plants. By 1989, the company stopped doing exterior landscaping. The company's mission was switched to specialize exclusively in indoor plants and plant maintenance services.
The 1990's brought a new stage of growth for PLAN. The company relocated from Penfield to downtown Rochester. Satellite offices were started in Syracuse and Buffalo. Through a philosophy of superior customer service, PLAN's client base began to increase rapidly.
In 1999, the long-overdue decision was made to change the company's name from PLAN to Plant Designs, Inc. Though our former name had long been synonymous with quality service, the company wanted a name more easily associated with interior plants. In 2001, our main office moved to a larger facility near where the company was founded in Penfield. This was our third warehouse expansion in three years.
By the mid-2000's we decided to centralize the business in our larger Rochester warehouse, closing down our satellite offices in Syracuse and Buffalo. We still provide excellent services in both those cities, but were able to consolidate and save costs that allows us to provide our customers with the very best service at the lowest possible cost.
In 2006 we installed a greenhouse behind our interior plant warehouse for growing on small plant material in the summer season. It's been operating seasonally ever since providing locally sized material we use on installations and replacements. At approximately the same time our Holiday décor program started to grow rapidly. We changed our business model to a rental program which allows customers to rent exactly what they want year upon year without the burden of aging décor (we replace items and repair components as needed) or lights. Since then, our Holiday décor program capabilities have grown substantially. We now install over 50 projects each season regionally. New materials are purchased in January and by July our design and production departments are in full swing to get prepared for November installations. Our warehouse has been transformed into a holiday wonderland for a majority of the year.
By 2008 we picked up representation for Vitazyme sales domestically and internationally. We have used this wonderful product on select accounts for over 10 years. Much more can be learned about it here. Today, Plant Designs, Inc. has over 30 employees, and regularly services indoor plants for over 500 clients from Buffalo to Albany. These clients include businesses of all sizes, office buildings, malls, hospitals and residences.